A tailor made web programme for Looked After Young People to practice decision-making about money, and discover the future financial options!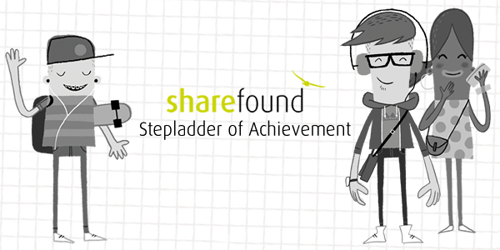 Stepladder has 6 Steps, shows your progress, and the amount of money you earn with each step you complete. When you earn a reward, it is paid directly into your Junior ISA or Child Trust Fund, safe for when you turn 18.
The programme is open to all 15 -17 year olds who've been in care for 12 consecutive months or more. We encourage young people to use a mentor if they need help with the Stepladder course. A mentor could be a teacher, support worker, foster carer or social worker. You can get help from The Share Foundation too on 01296 310405.


Here are the steps and what you earn in your Junior ISA for each one
Literacy – reading and writing - £150
Numeracy – handling numbers - £150
Making my Money Work – basic money sense - £200
Plan for the future – 250 words on how you plan adult life - £250
Managing my Money – an 8 week radio course with lots of money info - £350
Mentoring - securing future education, employment or training, with individual help - £400
Take all six steps and you'll earn £1,500 in your Junior ISA or Child Trust Fund: for you to draw out at 18
Benefits for young people
Save while you learn – take the steps, make the money!
Easy learning, anytime, anywhere! All you need is internet connection, then work at your own pace, measure your progress, and be rewarded for completing each step.
Learn how to manage your money as a life skill
Start planning for your future and get a personal mentor
Consider becoming a mentor for the Stepladder of Achievement for someone else in the future.
If you have any technical or learning problems with Stepladder PLUS, contact the Programme Manager, on 01296 310405 from 9am to 5pm Monday to Friday.